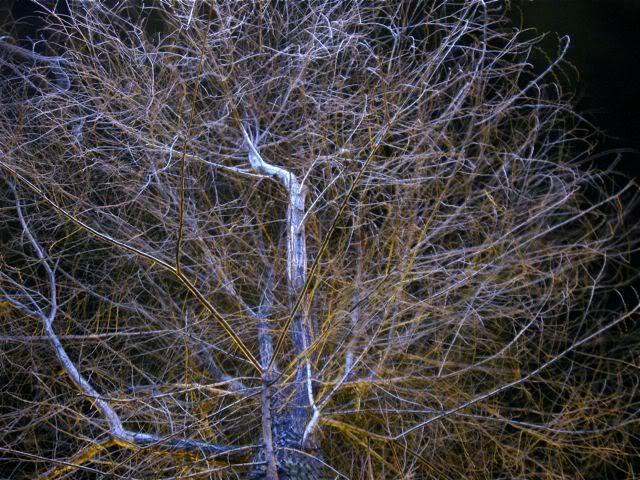 I saw a number of friends' bands over the last couple of weeks and thought I'd give them all reviews and plugs.
Spanglish Fly, Feb 19, Rose, Brooklyn — I've known the leader of Spanglish Fly, trumpeter Jonathan Goldman, for about eight years as he played on the corporate softball team I coached. He led a New Orleans style jazz band for a few years, then lived in New Orleans for a few years and came back and formed this band. These guys are bringing back the boogaloo sounds of Spanish Harlem in the 1960s and 70s mixing mambo, soul, latin jazz, and funk typified by supergroups like the Fania All-Stars. They're playing live a lot and are highly recommended! See link above for schedule.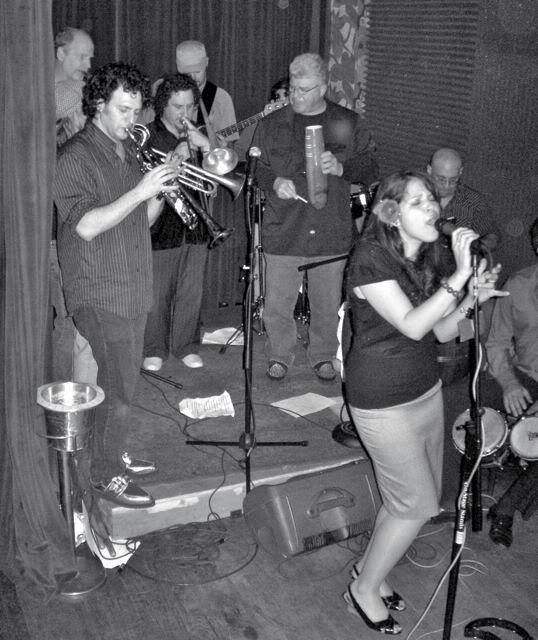 Spanglish Fly: Jonathan Goldman (trumpet), Erica Ramos (vocals) etc.
Bang On A Can All-Stars, Open Rehearsal, Feb 23, Carroll Music Studios, NYC — I was lucky enough to make the acquaintance of new BOAC All-Star pianist Vicky Chow at Manhattan School of Music recently and wangled an invite to this open rehearsal for their People's Commisioning Fund Concert to be held the following evening. Every time I've seen this band perform, it's been transcendant. You won't find another band more capable of thinking and playing inside and outside the box, perhaps simultaneously. The first piece by Oscar Bettison was a little soundtracky for my taste but it ended with a beautiful chiming chorus of differently tuned bicycle bells. The second by Christine Southworth was a vast pop panoply about an imagined dream that her dog had. I heard elements of Kraftwerk, King Crimson, Laurie Anderson, Yes, Peter Frampton(!), bluegrass, and Pentangle. Very fun. The last piece by Nik Bärtch was a fantastic minimalist buildup with parts and rhythms in different time signatures in the vein of Steve Reich, followed by a gradual fade. Since Reich only composes for pairs of instruments, it's nice to hear composers doing new things with his techniques. The latter two I could have in my iPod, not really the first. The BOAC All-Stars will be playing dates in Europe shortly.
The Dirty Shames, Feb. 24, Otto's Shrunken Head, NYC — I had already booked my friends The Demands at The Ding Dong Lounge last summer and was looking for bands to open when The Dirty Shames tagged me on myspace and they ended up opening the show. They're so good, they got a record deal after only being together for around six months. I've since struck up a friendship with their lead singer. She's nice enough to sometimes put me on the guest list although you don't really need that at Otto's since there's never a cover there. A problem with seeing shows at free venues is they sometimes lack amenities like maybe a sound guy. 99% of the time, any rock band that mixes itself will make it too loud and so as usual when I go to Otto's, I didn't hear more than a couple songs by any of the bands. Anyway, it was Chuck Berry cover night and Phast Phreddie (New York's bossest DJ!) was DJing so it was great sitting in the bar listening to the classic Chuck Berry covers. If you like garage/punk rock, go see the Dirty Shames when they have a real sound guy working the board! Schedule on the link above. I'm going to see them again on Saturday with the Bamboo Kids at Lit.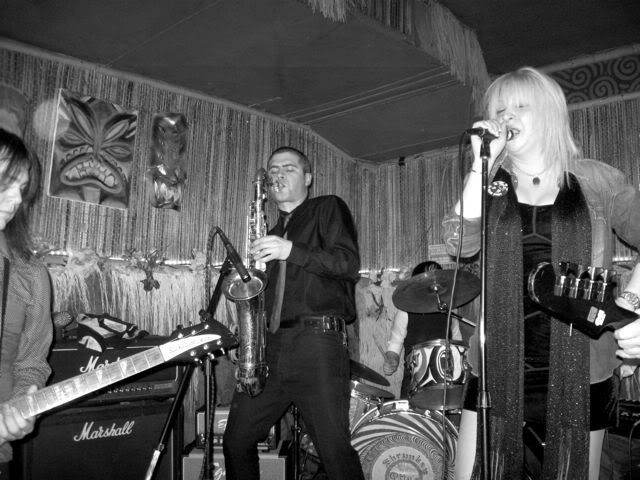 The Dirty Shames at Otto's, Feb 24
The Dirtbombs / Davila 666, The Knitting Factory, Feb 25 — This was a free show sponsored by a car company. Thanks, car company (ok, it was Toyota Scion). Davila 666 is a great party band from Puerto Rico who reminded me a lot of the Black Lips. (I wouldn't really agree with the "Menudo on meth" moniker.) Both bands are sort of one-trick ponies but hey, if you can keep pulling the one trick off a few hundred different ways, you've got a long career in rock n roll! I've seen Detroit's Dirtbombs probably six or seven times — one of the greatest bands working in rock today. I'm friends with their old bass player Troy Gregory who recently left so this was the first time I've seen them with the new guy. No complaints except that the other bass player, Ko Melina, is now playing fuzz guitar full-time instead of fuzz bass and it seemed to be way too high in the mix. (When I saw them at the old Knitting Factory, Ko sliced her hand open from one of her bass strings breaking!) Oh well. I'm not the sound guy.
Update: Added The Dirtbombs review after posting the first three. Also, Christine Southworth's piece (performed by the BOAC All-Stars), Concerning the Doodle, has its own website where you can download the newly minted live recording (courtesy of WNYC) and see the amazing animation that accompanies its performance. I also added a link to Nik Bärtch's site above. The entire PCF BOAC concert will be broadcast on WNYC's New Sounds very soon.