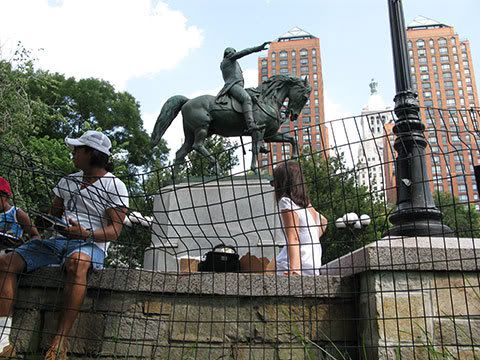 Can't wrap my 3D fence around it
I've been rehearsing the Crimson Grail with over 200 guitarists and these massive guitar orchestra composers never seem to learn anything from each other. The score is in letter sequences that don't follow one another. Solution: Provide a score that explains the parts in between your cues. Granted, Chatham does provide a lot of that but it's not presented in an easily understood manner when a conductor is constantly waving at you. (I'm never going to be accepted into another guitar orchestra again.) Each part of the orchestra has different letters. There are conductors trying to cue people when to play and they're doing hand gestures. Solution: more cue cards so everybody can be on the same page at certain points. Tonight we were in a church and no one had a mic and could not be heard unless their head was pointed at you. There were some cue cards for parts where everybody is supposed to be playing the same note. More cue cards! It still sounds very cool so show up if you're interested.
My bass head fell five feet on the cold hard marble. Hm. Gotta go in early and test it again
I watched "Natural Born Killers" last night for the first time since I saw it in the theaters and it was way better than I remember. It's Oliver Stone's best satire. Stone's skill is to amplify history through his films regardless of the absolute historical accuracy. With NBK, he made a film about the "popularity of violence" in the same way. With amplification, people might hear you in Poet's Corner. Tell a story as truthfully as you can and if the facts are in dispute, your story may be the truest of the lot. Maybe it will stick. If the truth sticks, it looks prettier than when the shit sticks. Get off my lawn you kids — buy some guitars and make rad movies.
Ok, what else. I hope you've been reading TPM lately which has been following the McSame response to the Russia/Georgia conflict etc. McSame wants to be Nero and Caligula. He really wants the U.S. to follow in the footsteps of every failed empire in history. He's running a shit campaign that appeals to the worst in America. The YOT (youth of today) must put the crusty old douchebag in an old folks' home if they want hope.