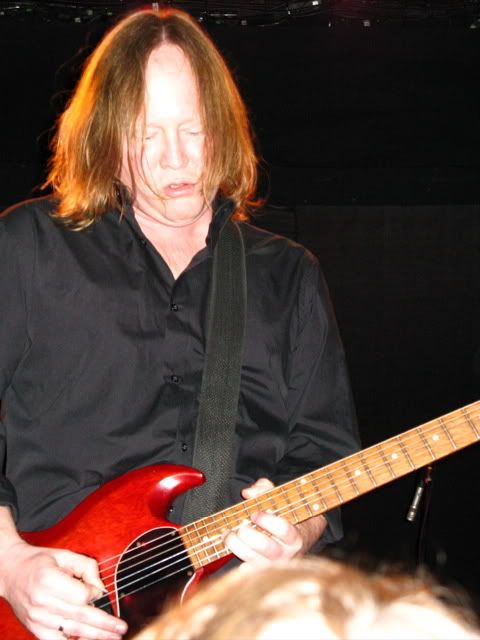 Eric Roeser, Urge Overkill

Nash Kato and um, Brian Quast of Urge Overkill

Taking good pictures of bands is hard! You have to take a million shots especially if you're not used to your new camera. Then, if you're taking millions of pictures, you must put on your photo editor cap and get the axe out. These Urge Overkill shots are bad but it's to illustrate that I've been overwhelmed with gigabytes of photos and travel and music. I'm going through the San Francisco photos and I'll post some when I'm good and ready but this post is about the music I saw in New York the past few weeks.
Opening for UO was Los Angeles band Suffrajett. Great lead singer blah blah. I feel funny saying something significant as I haven't listened to their music enough although I've played a few tracks at the Ding Dong.
It's a shame Urge Overkill never had the big breakthrough they deserve as they're a perfect guitar blend of garage, glam, punk, and classic rock. While it's great they're back together and recording again, they're a little past their prime to ever really get there looking as craggy as I do. They played around three new songs along with the classics at the Bowery Ballroom a few weeks ago and they're good. Fingers crossed for the new rekkid when it's time. Shame on them for being one of those bands that refuse to play their big hit because they're sick of it. (Incidentally, Neil Diamond played a show at The Bitter End a couple weeks ago. See, why can't the Ding Dong Lounge get The Melvins?)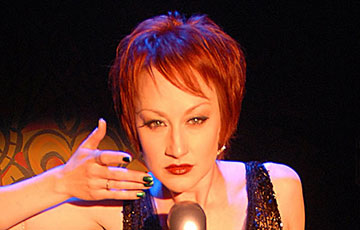 One of my first acquaintances at the Ding Dong Lounge was Deborah Bowman. She'll get mad at me for saying this but the regulars live for the times she gets on the bar with a hula hoop. She'd been touring on a cruise ship around South America and elsewhere doing her cabaret show of Broadway tunes and she finally put one out there for her New York friends up at the Gatehouse at City College. Deb has an amazing voice, charismatic stage poise, candor and showmanship. She's poised for stardom.
In my neighborhood, there's an amazing little institution called the Bloomingdale House of Music which offers low-cost music lessons to Manhattan kids. They've been adding great jazz musicians to their faculty and a friend and I caught a recital by Mark Mollica. (pictured: Drummer Ted Poor and bassist Ike Sturm.) Mark's set was unusual in that he took a handful of rock songs and rearranged them jazz stylee with very impressive results. If you're familiar with The Bad Plus's take on some rock standards, this is nothing new. This is the way to turn kids onto jazz and new music in general. Jazz purists who snub their noses at this practice are full of shite.