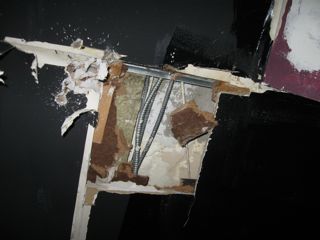 I arrived at the Ding Dong Lounge last night to discover a fire truck parked out front and a dozen patrons milling around with New York's Bravest. Not seeing any smoke, I looked into the bar and saw a waterfall pouring from the ceiling. Chet told me it had subsided quite a bit and earlier the lights had been flickering and from the outside the bar appeared to be collapsing in on itself. He was worried if he had done the right thing by calling fire department. Anyway, the firemen turned the water in the building off and tore up some of the damaged ceiling to let the rest of the water out. We threw ice in the toilets and a fine time was had by all. It turned out the overflowing sink or tub was in one of the top apartments so there's obviously damage in at least two more apartments between the culprit and the bar.
Once a girlfriend took a bath in my tub and splashed a bit and the overflow drain was rusted and water damage occurred in the apartment below me. My landlord told me if it ever happened again, I would be responsible for the repairs. Doesn't the landlord have to repair the overflow drain before making such a threat?
Update: The cause at the Ding Dong was determined to be a burst pipe, something the building insurance will have to pay for. The building probably needs an entire plumbing overhaul.
* * *
Beforehand, I'd gone for a walk with a friend through Riverside Park and was surprised to find the 79th Street Boat Basin Café or whatever it's called already open for business. Some trees are already blooming! Get out there when the rain stops. Spring is here, folks.